Parenting Today
Never before, in the history of time, has parenting been so difficult. Parenting today represents a myriad of unique challenges and disconnected systems that has never been experienced by any generation before.
We have less support and more responsibilities.
The message and information presented in this site is intended to:
empower parents and caregivers to TEACH through Love by engaging children in everyday life.


supply real-world, applicable information for solutions to family challenges using positive discipline.


encourage parents to discover the deeper causes behind common childhood behavior problems.


introduce parents and others to the real effects that their words and actions can cause.
And provide harried moms and dads with:
info on how junk food affects kid's behavior.


quick & easy-to-learn anger management techniques for parents and kids.


more productive methods for communicating to your kids what they need to do and when you need them to do it.


insight into how and why your kids may be acting out in response to your parental stress.


why the ages & stages of child development matter more than you think.


articles about everything from motherhood madness and vaccine decisions to daddy duty and the effects of positive reinforcement.
_____________________________________________________________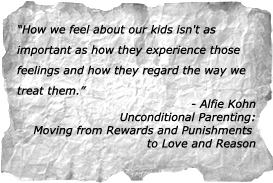 But I don't abuse my kids!
This website is a labor of love, literally. Being a parent is not easy. It can be stressful, unpredictable, worrisome, frenetic and ultimately draining. Parents are often overworked and without suitable resources or the proper training to care for such young and vulnerable souls.
Emotional Abuse
is a topic that reached out and touched my heart - or rather severed it in half - several years ago, before I was a parent, before I was married, before I knew where my passion for the emotional well-being of kids would take me, there was a moment.
Once upon a time, I was simply a
witness...
Read more of my story >>
---