Click here to download the MEDIA KIT
Click here for MEDIA PHOTOS
The Mission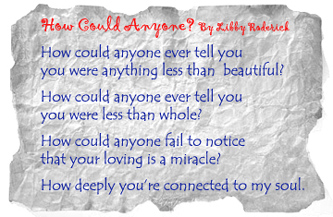 TEACH through Love, Transforming the Emotional Abuse of Children is an organization dedicated to raising the global awareness of emotional abuse and transforming the pain of childhood trauma into a passion for life by promoting empathy, compassionate communication and peaceful conflict resolution.
Everyday millions of children are verbally and psychologically mistreated. Although the most widely recognized forms of abuse are Physical and Sexual, at the core of all abuses is Emotional Abuse.
These systematic attacks on a child's emotional well-being and sense of self-worth have become a national epidemic.
At the same time, it appears our societal norm has devolved into blindly encouraging the development of the ego at the expense of the human spirit. We have become a nation that delights in mockery rather than humor - people who acknowledge cruelty toward others as a tool more powerful than love .
We have disconnected so completely that we willingly engage in the dysfunction mirrored for us nightly in the 30-minute replays of popular "situation comedies" or the latest reality farce.
But in homes all over America, the reality is not so funny.
Bound by fear and relishing in illusory symbols of status and power, we choose to spiral through life clinging to our reputations, our homes, our cars and our jobs as if they defined our very existence and our children are paying the price.
Every time a child commits suicide or goes on another school shooting rampage, we struggle to understand why? Fingers are pointed in every direction - at the media, the music industry, video games, lack of morality in America, the NRA, but our fingers are never turned inward, toward our own hearts.
It is time to recognize our own words and actions as the cause of an ever-eroding respect for life.
It's time to begin the healing of our hearts.
---
Make the Promise Now! 
Download TEACH Awareness Flyer 

---